Leon Ozaawaagosh Valliere discusses Lac du Flambeau history in library-sponsored event
June 21, 2022 @ 6:00 pm

-

7:00 pm

Free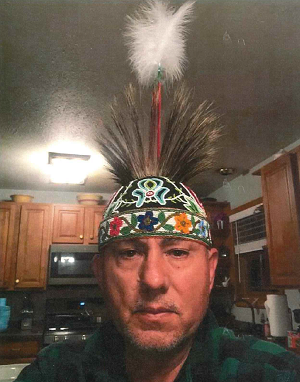 Also featuring special guest Mildred "Tinker" Schuman (Migizikwe)
Leon Ozaawaagosh Valliere will speak at the Waaswaaganing Indian Bowl in Lac du Flambeau on Tuesday, June 21, 2022 at 6:00 p.m. His talk is sponsored by the Ben Guthrie Lac du Flambeau Library as part of the Northwoods Book Festival, a series of events sponsored by seven local libraries to be held throughout the summer.
Mr. Valliere will be joined by poet Mildred "Tinker" Schuman (Migizikwe). The event will be held immediately before the opening night of the summer pow wow at Waaswaaganing.
Leon Ozaawaagosh Valliere currently serves the Lac du Flambeau Band of Lake Superior Chippewa Indians as Ojibwe Language Program Director. Mr. Valliere works with students at the Lac du Flambeau Public School and Lakeland Union High School. He also provides Ojibwe Language instruction to community adults via Zoom Classes and direct instructional sessions.
Mr. Valliere is a contributing author to Memories of Lac du Flambeau Elders, edited by Elizabeth Tornes. The book features interviews with elders, all in their seventies and eighties when interviewed. They discussed the enormous changes they saw in their lifetimes as well as the traditions and beliefs that the Ojibwe have continued to maintain, despite attempts at forced assimilation on the part of the U.S. Government and others. Their stories are a testimony to the enduring strength of the Ojibwe people and their way of life. Mr. Valliere contributed a historical introduction going back four hundred years to Lac du Flambeau's original settlement, telling the history of the Ojibwe in their own words. At this event, Ozaawaagosh will share more about the process and meaning of writing this book.
Mr. Valliere frequently serves a consulting role for Ojibwe Tribes in the region, assisting with Ojibwe Language curriculum development, translation services, and material culture demonstrations. Ozaawaagosh was frequently exposed to Ojibwe language as a child growing up on the Lac du Flambeau Reservation. As a young adult, Ozaawaagosh committed his life to the Ojibwe Language Revitalization Movement, spending countless hours learning and conversing with fluent elder speakers.
Mr. Valliere attended Haskell Indian Junior College where he obtained an Associate of Arts. Ozaawaagosh also graduated from the University of Wisconsin-Stout with a B.S. Industrial Technology. He enjoys the pursuit of Ojibwe history, music, and material culture. His primary activities include Ojibwe ceremonies, hunting, fishing, and gathering.
The Northwoods Book Festival is a joint project of seven libraries in northern Wisconsin: Boulder Junction Public Library, Ben Guthrie Lac du Flambeau Public Library, Frank B. Koller Memorial Library in Manitowish Waters, Mercer Public Library, Minocqua Public Library, Presque Isle Community Library, and Winchester Public Library. Events will be held at each participating library, and patrons are encouraged to attend events at all of our participating locations. All programs are free and open to the public. For more information about the Northwoods Book Festival, visit www.northwoodsbookfest.org.
For more information on this event, call the Ben Guthrie Lac du Flambeau Library at 715-588-7001.
The 2022 Northwoods Book Festival program series is made possible by a grant from the American Rescue Plan: Humanities Grants for Libraries.
American Rescue Plan: Humanities Grants for Libraries is an initiative of the American Library Association (ALA) made possible with funding from the National Endowment for the Humanities (NEH) through the American Rescue Plan Act of 2021.