Tinker Schuman (Migizikwe) and John Bates, Poetry Reading at Mercer Library
July 28, 2022 @ 6:00 pm

-

7:00 pm

Free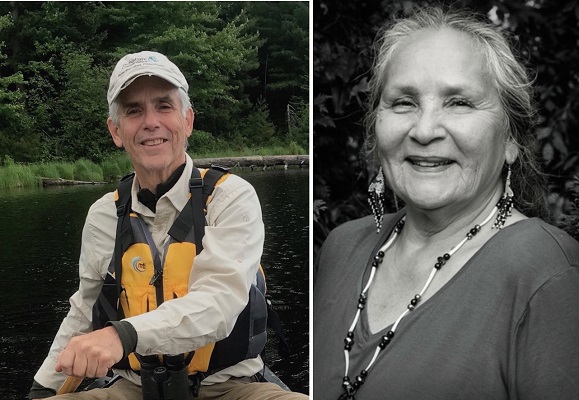 Local authors Tinker Schuman (Migizikwe) and John Bates will read from a selection of their prose and poetry centered around the seasonal turnings in nature and in our lives. The event will be held at the Mercer Public Library on Thursday, July 28 at 6:00 p.m., and is part of the Northwoods Book Festival, a series of events sponsored by seven local libraries to be held throughout the summer.
Tinker Schuman is a free verse published poet, storyteller, and spiritual helper. She is a member of the Ojibwe Nation of Lac du Flambeau, Wisconsin. Her Native name is Migizikwe, or Eagle Woman. As a poet, her work is established in Native American heritage, but is related and relevant to all walks of life, the pathways of travel on Mother Earth. She is the author of a trilogy entitled Reflections, with the first volume titled Reborn in the Sun. She is also the co-author of The Healing Blanket and a poetry CD All My Relatives: Gakina Nin De Was Maa. Her many accolades include being presented with the "Elder of the Year Award" by the Wisconsin Indian Education Association.
John Bates is the author of ten books and a contributor to seven others, all of which focus on the natural history of the Northwoods. His poetry has been published in the Oxford Magazine, Wisconsin Academy Review, Albatross, and The Northern Review, and in five science-art exhibits. John's book of poetry, Cold to the Bone, came out in 2017. His most recent non-fiction book is Wisconsin's Wild Lakes: A Guide to the Last Undeveloped, Natural Lakes.
The Northwoods Book Festival is a joint project of seven libraries in northern Wisconsin: Boulder Junction Public Library, Ben Guthrie Lac du Flambeau Public Library, Frank B. Koller Memorial Library in Manitowish Waters, Mercer Public Library, Minocqua Public Library, Presque Isle Community Library, and Winchester Public Library. Events will be held at each participating library, and patrons are encouraged to attend events at all of our participating locations. All programs are free and open to the public. For more information about the Northwoods Book Festival, visit www.northwoodsbookfest.org.
This event is free and open to everyone. For more information, call the Mercer Library at 715-476-2366.
The 2022 Northwoods Book Festival program series is made possible by a grant from the American Rescue Plan: Humanities Grants for Libraries.
American Rescue Plan: Humanities Grants for Libraries is an initiative of the American Library Association (ALA) made possible with funding from the National Endowment for the Humanities (NEH) through the American Rescue Plan Act of 2021.